We are welcoming the new CEO of PLAYipp!
We are glad to inform that it will be Henrik Mazzanti, formerly Business Unit manager at Nordlo, who replaces Richard as CEO.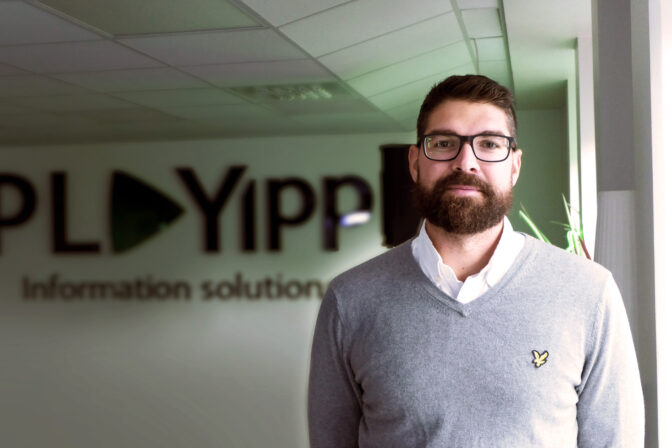 Welcome to the new CEO of PLAYipp Henrik Mazzanti!
New CEO to take the reins at PLAYipp
After 16 years the founder and CEO of PLAYipp, Richard Häll decides to step aside and let a new leadership come into play.
"It's been an amazing journey, building both company and a team of co-workers and seeing it grow into its present success," says Richard about the development of PLAYipp.
The company was founded in 2006 after Richard saw the possibility of adding an information screen to the main square in his hometown of Gävle. It might have grown and the focus might have changed since then but it's still all about digital signage. Digital signage as a market has grown ever since and PLAYipp is a market leader with nearly 3000 customers. PLAYipp has not slowed its growth. With a 34 % increase, last year and most likely another 30 per cent this year, PLAYipp is scaling up for new challenges.
It is the beginning of a new era for PLAYipp. The next stop is an international expansion where Richard has decided to recruit his successor. A lengthy process through spring and summer has ended. It will be Henrik Mazzanti, formerly Business Unit manager at Nordlo, who replaces Richard as CEO.
"I am pleased and glad for the trust to lead PLAYipp towards its future. PLAYipp has built a solid foundation. I look forward to keeping adding to the scale-up together with great partners, co-workers and our clients."
Henrik joined PLAYipp on the 12th of September and will work side by side with Richard for a short period. In regards to recruitment, Richard said: "It's not everyone that has the pleasure to recruit your successor. Henrik has my full support and I see him having all the necessary tools to run PLAYipp into a bright future. I'm certain and will safely say that PLAYipp and its co-workers will keep making great things happen for a long time to come."
Richard will keep adding value to PLAYipp through the board of directors but his everyday energy will not go to waste, he is already fully committed to a new start-up, a company adding value for information and communication in small and midsized companies.