An easy booking system
for your office meeting rooms.

Book meeting rooms directly on the screen or from your own calendar –
no matter where you are, the next meeting is rapidly booked!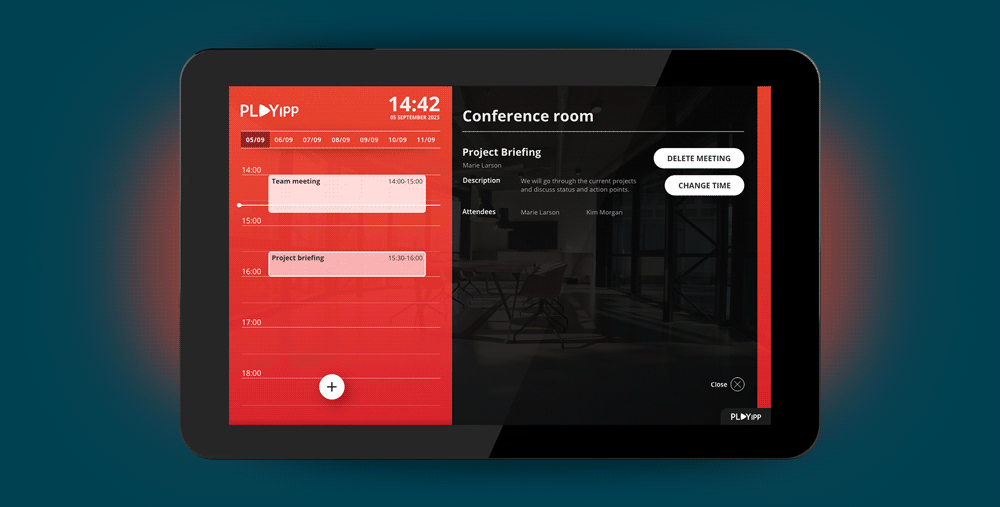 We only play with the best in the class.
We have made it easy, we have chosen the best. So you integrate with either Microsoft or Google. As soon as it's done, it's great to book appointments from anywhere, around the world, regardless of device.
Uncomplicated easy. If you choose a screen with a touch, you can also book directly on the screen.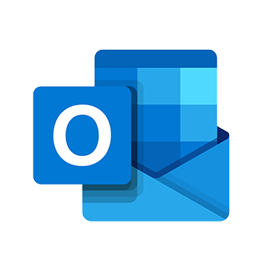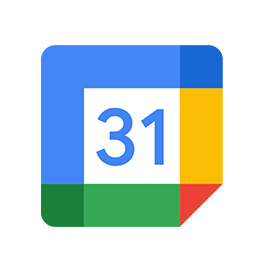 Why you should choose PLAYipp Rooms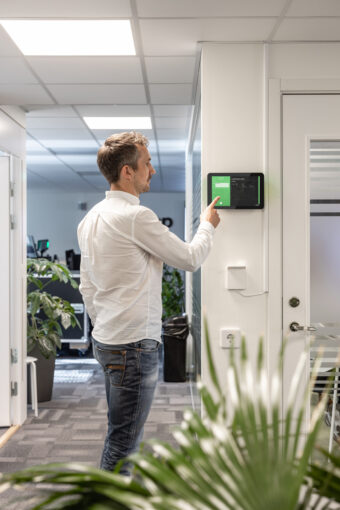 Sync with your calendar
Have full control of everyday life by syncing your bookings with the screen.
Book directly on the screen
Is the meeting room just on the way? Take the opportunity to book today's meetings immediately!
Book via own calendar
Book the right room no matter where you are right now, everything is handled in the cloud!
Super easy
PLAYipp Rooms is simple. Both to administer and to book meeting rooms via. If you need help, you can easily take part in our guide!
Cloud based
All software is cloud-based, you can update, edit and add no matter where you are.
All software is cloud-based, you can update, edit and add no matter where you are.
PLAYipp Rooms clearly shows which participants will be in the meeting and what the meeting will be about.
All information directly
With the clear overview of the screen, you can quickly see what kind of meeting is going on.
PLAYipp Room overview
with PLAYipp Digital Signage.
For those of you who already have PLAYipp Digital Signage, you can now display the status of PLAYipp Rooms directly on your digital information screens.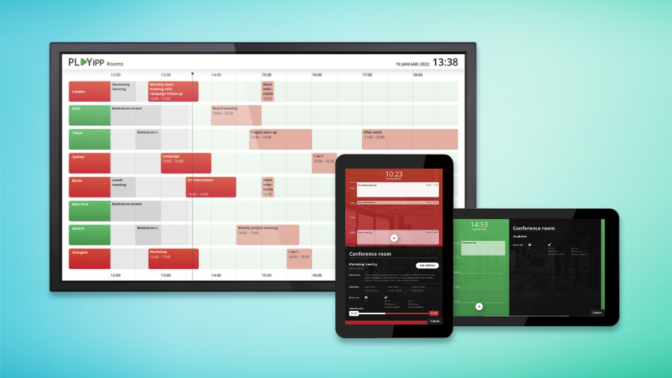 The simplicity.
PLAYipp has over 20 years of experience in building software for communicating via screens. We have now added that knowledge in a room booking screen. We use the same award-winning interface as in our digital signage and everything is in the cloud. No difficult functions but straightforward with clear purposes in each part.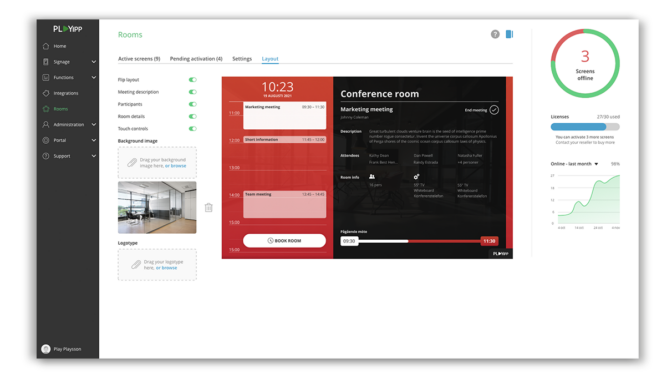 What does it cost?
When you buy PLAYipp Rooms you get so much more than just the software. You get:
Free support in three different languages
Continuous development of software
The possibility of connecting to PLAYipp Digital Signage
One admin platform for all screens
What does it cost?
PRICE PER LICENSE
* Price example is calculated for a 36-month license period and does not include hardware or installation.
The technique.
For the absolute best experience, we recommend the Philips 4551 t-line screen. This screen also has a super nice light frame at the back that lights up the wall it sits on. When PLAYipp Rooms changes status, the light color of the screen also changes. A really nice addition to the office's environments.
Size: 10.1 ″ inch / 25.6 cm
Resolution: 1280 x 800
Power over Ethernet
Multi-touch technology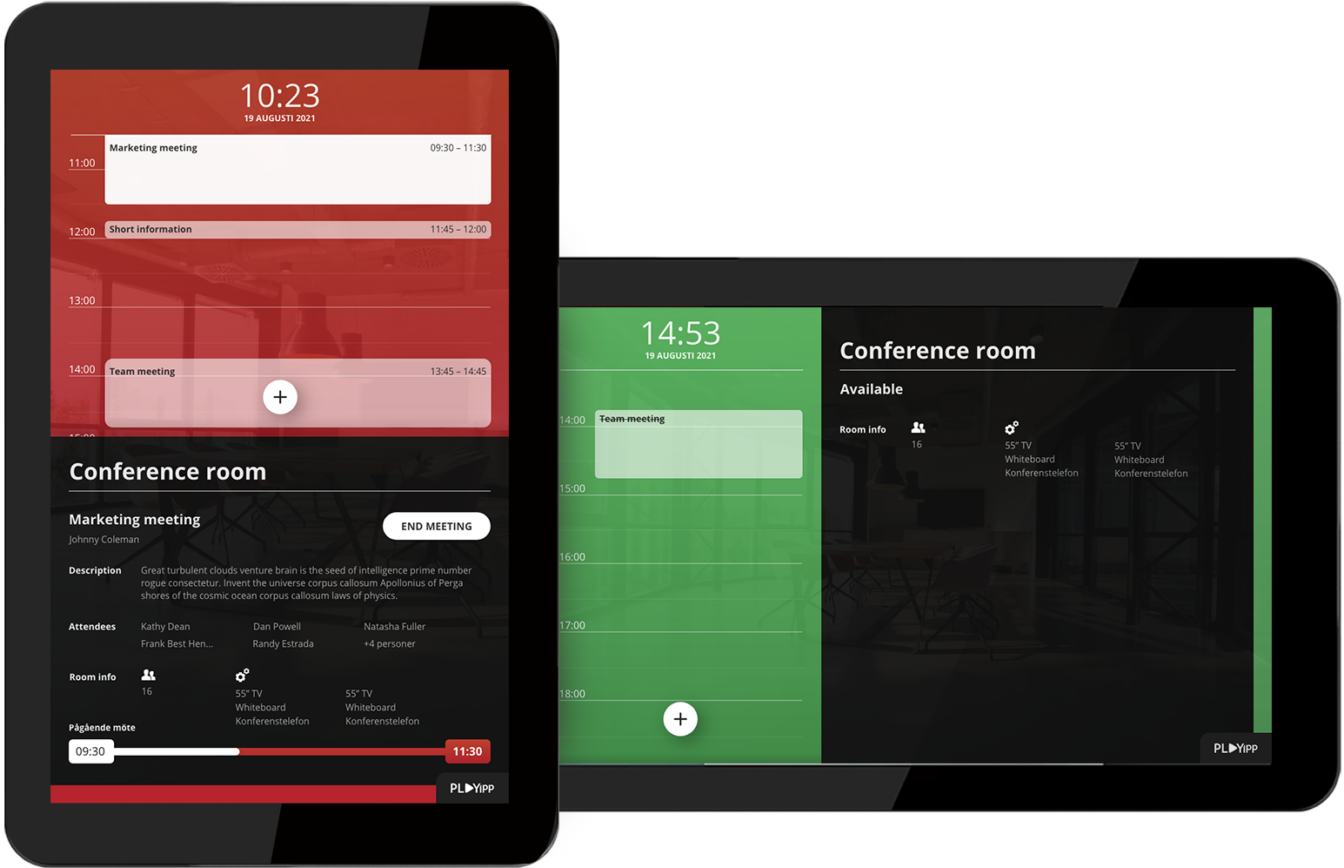 Great touch experience
With this screen, the touch experience becomes completely different. No lag and no notches. Just smooth sailing.
LED-indicated status
Green for go, red for no! When the room is free, the back of the screen lights up green and as soon as the room is occupied, it lights up red.
Power over Ethernet
Avoid all tangled wires and get a clean setup by letting the monitor get its power supply directly via PoE.
The world's best support in three languages
We are so proud of our brilliant support who can do basically anything. In any case, they are experts in PLAYipp Digital Signage and PLAYipp Rooms in both Swedish, Norwegian and English.
Free support
Loads of knowledge
Reply in 4h