Avoid extra homework when conveying information.
We've been studying communication solutions for almost 20 years, and one thing's for sure – we're getting smarter with every passing day.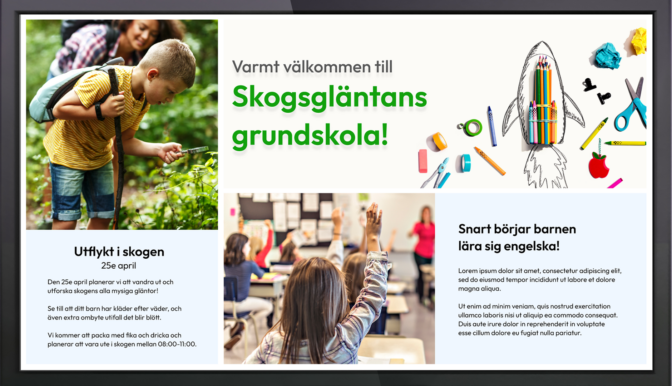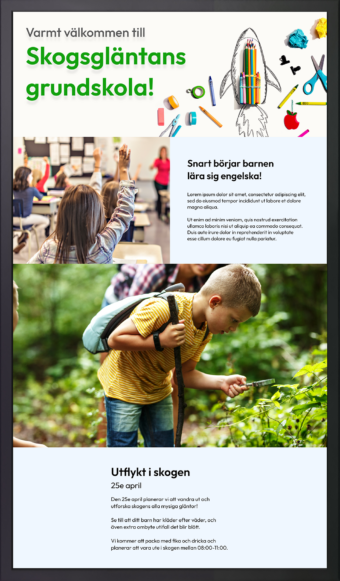 Timer function
PLAYipp enables you to display the
right information at the right time. Whether it's a good morning greeting, the day's lunch menu or lessons cancelled in the afternoon.
Gather information
You can display multiple different sources of information simultaneously, ensuring the right information reaches the right person.
Multiple screens – different content
Working with multiple screens at a school is easy. Complex organisations have differing needs. We've found simple ways to meet them.
Work across boundaries
Different people can be responsible for different parts
of the content. Less bureaucracy and faster results.
Control of access rights
A smart system for access rights means you can rest assured that changes are only made by those
with authorisation.
Visibility
Light and changes catch the eye. It's clear where to find information, something that's difficult to recreate
with pieces of paper.
Cost control
Financial control is important. When you work with us, you know exactly what it costs, from Day 1. Peace of mind when you have a budget for your business.
Efficient
All you need is an Internet connection to update the content. You'll save hours every week!
We rarely sit exams, but when we do, we get top marks.
We leave nothing to chance, and we don't believe in luck. We are market leaders because we work hard, we keep
on studying and are dedicated to our customers. PLAYipp is easy to use, even for those who don't work with it
every day. We use tried and tested, stable technology. Our customers need information carriers that work and
assume the role of a smart colleague as the working day changes.
With almost 200 Swedish municipal authorities as customers, we know that we can help your school too to avoid having to redo your homework.