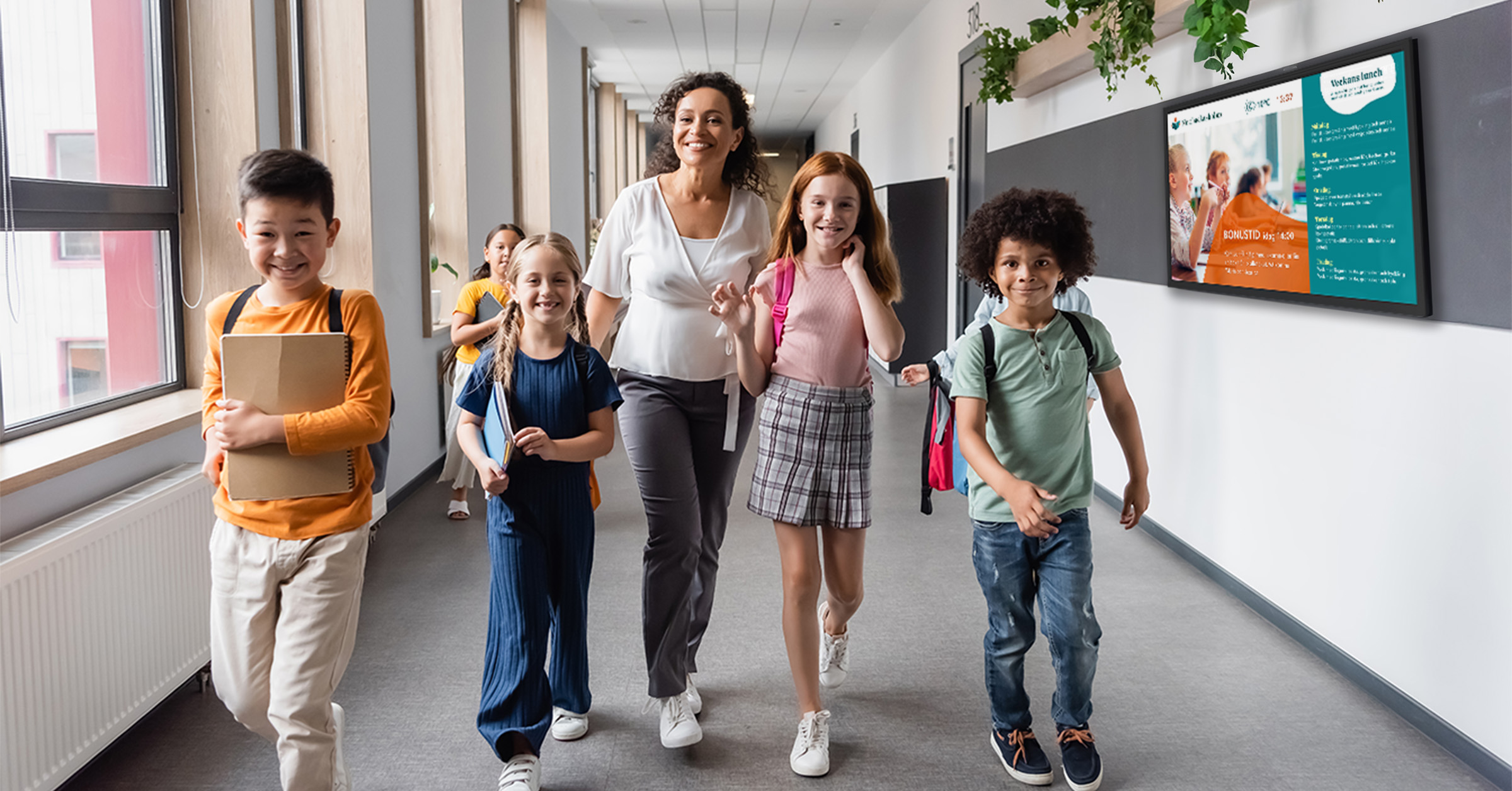 DIGITAL SIGNAGE FOR SCHOOLS
TOP CLASS IN INFORMATION SHARING
With PLAYipp® and digital signage, you capture the entire school's attention – from the staff office to the student council!
Five advantages of digital signage in schools
This is how PLAYipp® simplifies everyday life in your school:
1. Keeps the school updated
By placing interactive screens where the target audience is, you achieve a simple and targeted flow of information. Focal points, animations, and videos on the screens bring the room to life and pique the curiosity of both staff and students.
2. Follows the school day
The school day is dynamic, and reaching the right person, at the right time and place, can be challenging. With PLAYipp®, it becomes easy to target the information. When the math lesson has to be moved to another classroom at the last minute, you can inform the students with just a few keystrokes.
3. Creates positive communication
Digital screens can be used to give the school a unique voice that inspires and builds cohesion. Lay the foundation for a positive atmosphere with engaging content that reinforces the school's values and community with the school's own language.
4. Tailor information
Make each screen completely unique! Customize the content to deliver relevant information to each target audience, no matter where they are. With PLAYipp®, you can retrieve content from different sources and customize what is displayed where, on each screen.
5. Saves time and resources
Say goodbye to outdated prints and posters that go unnoticed in a busy school day. Both you and the environment save energy by using PLAYipp® and digital information screens.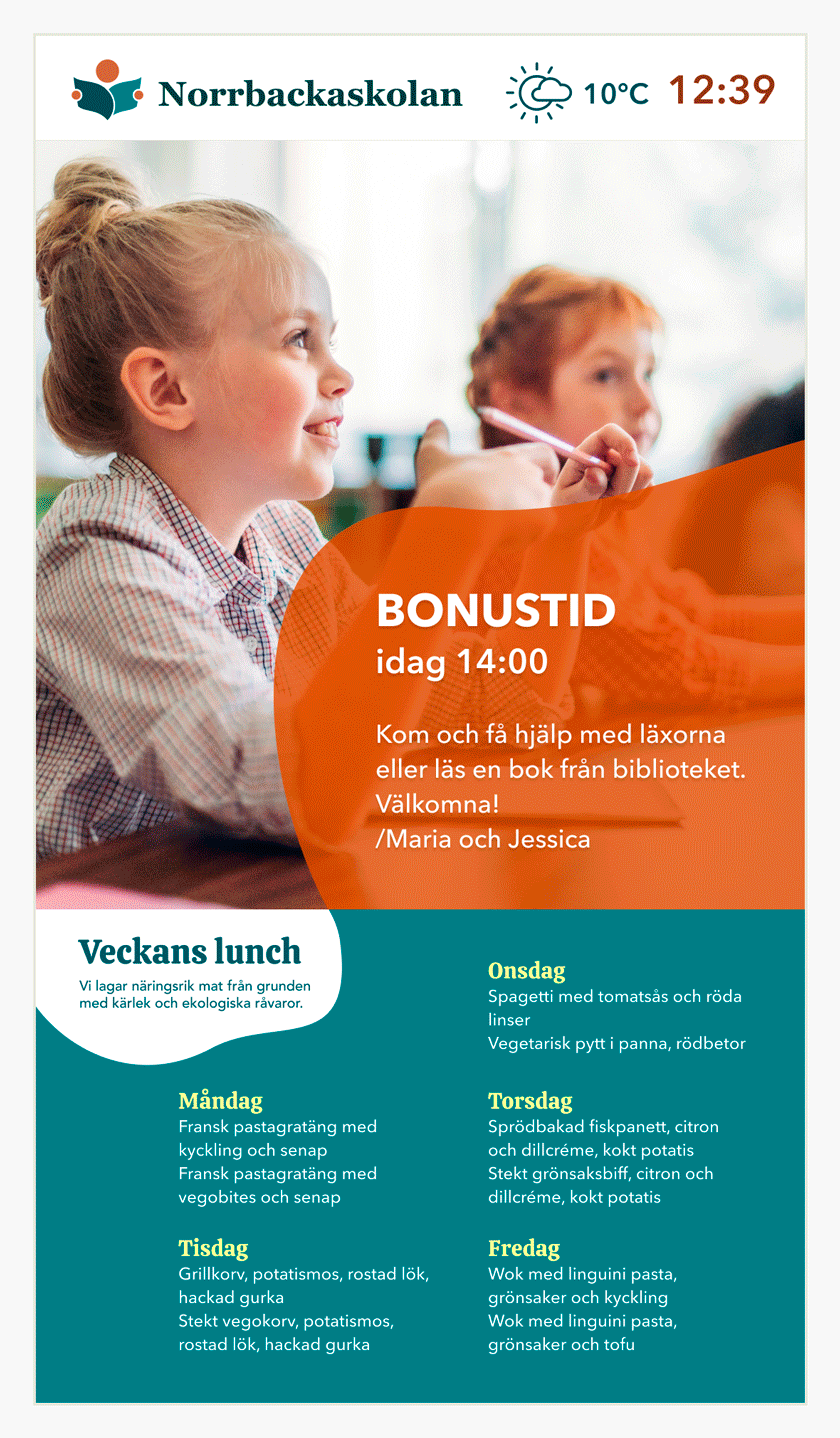 ALREADY USING DIGITAL SIGNAGE for education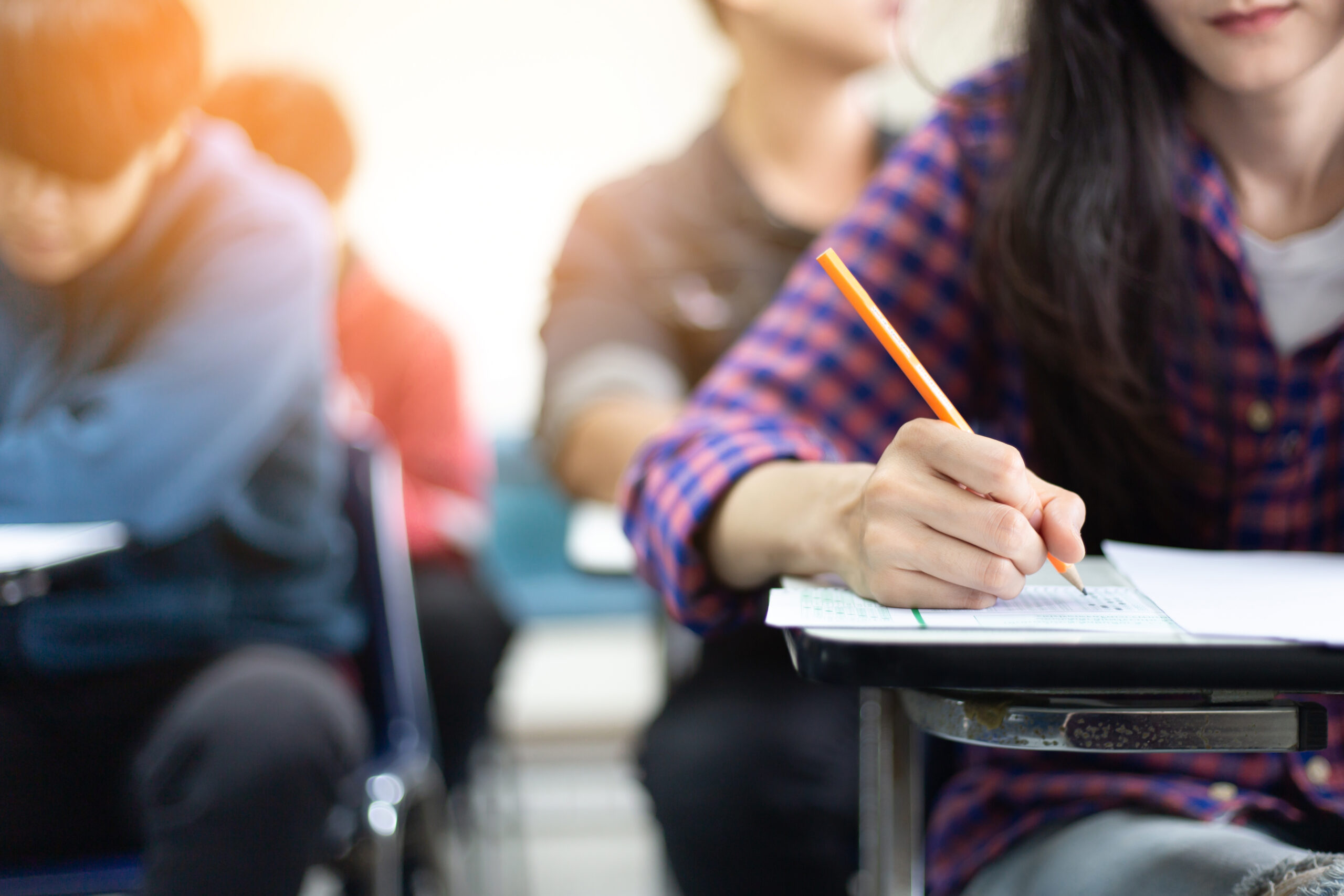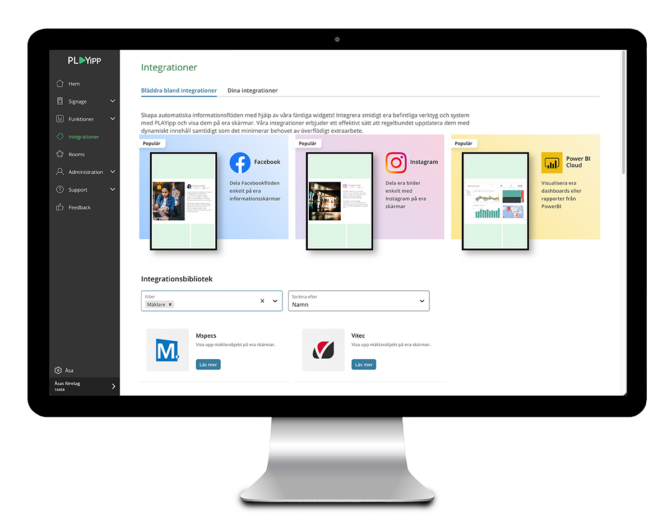 Streamline the school's daily operations with PLAYipp®!
Break the noise in the hallways with content that captures attention: Share text, videos, images, or PDFs and reach the target audience where they are. With PLAYipp®, different administrators can be responsible for different areas on the screen. Digital signage makes updates a simple and entertaining task, whether the target audience is students, staff, parents, or visitors. PLAYipp® offers a flexible communication solution suitable for the modern school.
Explore the possibilities with digital signage for education
See the exciting possibilities that digital signage opens up:
Closer collaboration
Make it easy for everyone to share relevant information! With PLAYipp®, multiple users can publish content, reducing the number of communication links and ensuring that all target audiences have access to relevant information.
Seamless integration
Take advantage of a growing collection of integrations and connect the systems you already use directly to PLAYipp®. This way, you don't have to publish material in multiple places and ensure that the content always appears in the right place and in chronological order.
As simple as it is versatile
Get started quickly with QUICKstart! Use ready-made message templates or customize the screen layout to your preferences – both landscape and portrait. All content is securely stored in your PLAYipp®.
Create a sense of security
Use PLAYipp® to create a welcoming and safe atmosphere for both students and visitors. Share information that guides them to the right room or other information that ensures they have a pleasant stay at the school.
Fewer misunderstandings
Take advantage of PLAYipp's automation capabilities so that no one misses important information. Get automatic updates from the cafeteria or the school's Instagram feed directly on the screen without having to publish them manually.
Efficient information sharing
The school day is full of activities, and it can be challenging to keep the staff and students updated at all times. With digital screens, you reduce the need for emails, notes, and intermediaries, ensuring that the information reaches the right recipient at the right time.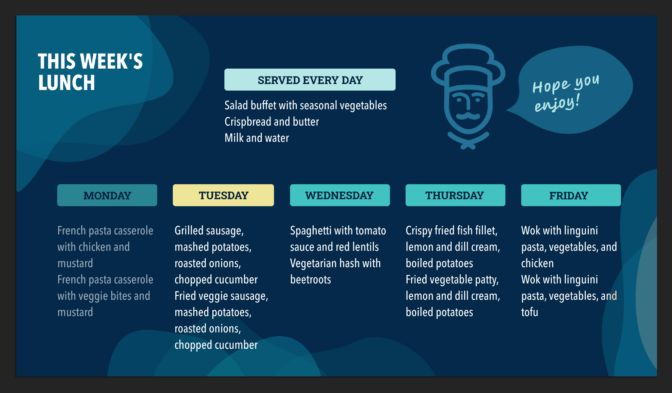 Why should you use digital signage for schools?
Digital signage is a powerful tool that simplifies communication and creates good information flow in the school's everyday life. With strategically placed screens, you ensure an instant and targeted transfer of key information to students, staff, and parents.
The content can be quickly customized, ensuring it is always relevant and engaging for the specific audience on-site. Dynamic screens inform, inspire, engage, and create a safer school environment, all while saving time and resources.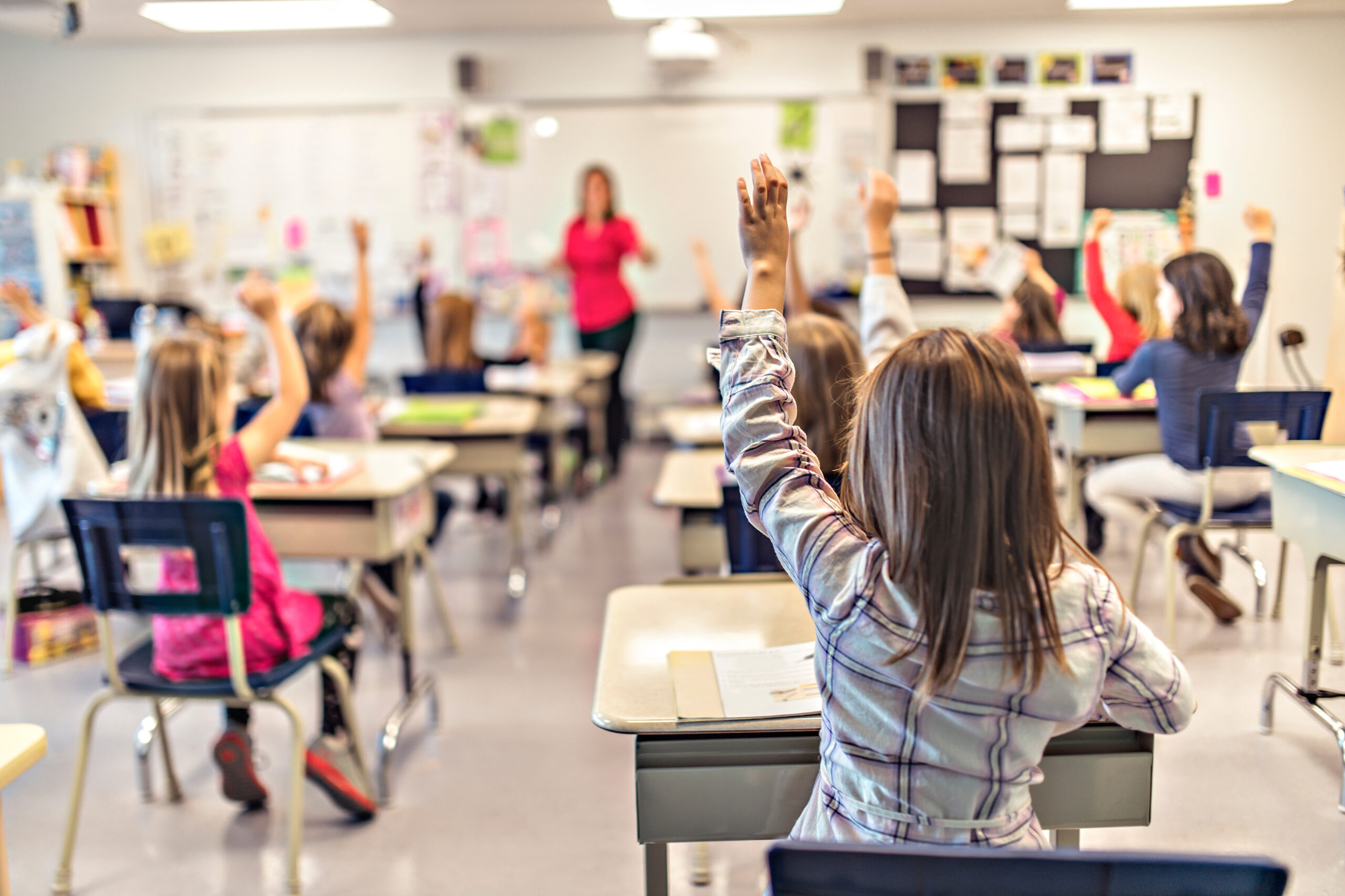 I'm interested in PLAYipp® for schools
Great! Fill out the form, and we'll contact you soon.
PLAYipp® for schools FAQ
What is digital signage for schools?
The use of digital information screens utilising a platform for publishing such as PLAYipp® to broadcast information onto the screens.
How can digital signage benefit schools?
It will speed up information flow throughout the school and it will lessen misunderstanding or miscommunication.
What are some common uses of digital signage in schools?
The most common usage is to spread general information towards students and staff. Publishing lunch or cafe menys is also a common usage.
How does digital signage improve communication within a school?
It lets more people take part in spreading communication and therefore making it more relevant to the audiences where the screen is located. It also makes it much more efficient since each screen is remotely controlled. All information will aslo easily be edited and therefore always relevant.
Are there any privacy concerns with the use of digital signage in schools?
Depending on where the screen is located you have to be aware of who can read it. PLAYipp® uses deep and advanced user permissions and all data is stored locally.
Can digital signage be customised to match a schools branding and colors?
PLAYipp® lets all clients use the screen as a white label solution, branding it as they seem fit. If you need help we offer free support.
What are the costs associated with implementing digital signage in a school?
Yes – Hardware will need to be bought and installed, depending on brand and size it will differ in cost. PLAYipp® has a license attached to its platform that will be payed on a montly basis.
Are there any limitations or technical requirements for using digital signage in schools?
To use PLAYipp® you will need approved hardware or a PLAYport HD and you will need a license. The screen needs internet access.
How easy is it to update content on digital signs in schools?
PLAYipp® has an intuitiv user interface and is built for clients with no prior experience of digital signage.
Can staff, students, and parents interact or provide feedback through the use of digital signage in schools?
Not directly through the screen but depending on which tools you have integrated there are no limits to interactive engagements using for example Instagram, Facebook or Teams to answer or give feedback. PLAYipp can also generate QR codes to lead your audience to interactive content.