Features.
We gave you superpowers by features. Making sure you have what you need to make great communication.
Digital Signage filled with functionality
We know that communication well done needs power, usability and a lot of smartness therefore we spent the last 15 years and more fueling PLAYipp with loads of great stuff. We are proud to say that with us, you will have just about all possibilities you need for making engaging, great communication, both internal and external.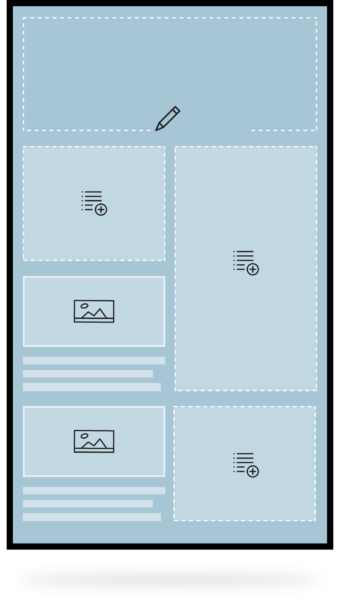 Areas
By dividing the screen into different areas you can broadcast several messages, from several sources at the same time.
Screen layout
PLAYipp has several pre-made templates but you could just as well create your own. We made it easy. If you want to change layouts at certain times, you can schedule it, just as easily.
Preview
Wanna make sure the screen looks awesome? Use the preview and you can see whats on. Or take a screen-grab and dig into each pixel if you want to!
Vertical/Horizontal
Where ever you place your screen, you can be sure that we got it covered. If you want to change in between as you go, that aint a problem either.
Message templates
Our own, quick message tool. Got something to say don't wanna use an integration? You can quickly and with no pre knowledge create a good looking message on your screen with us.
QUICKstart
We make sure you up and running in 3 small steps.
Same product, unique results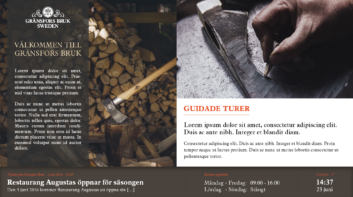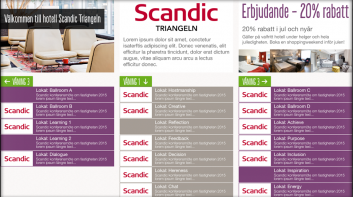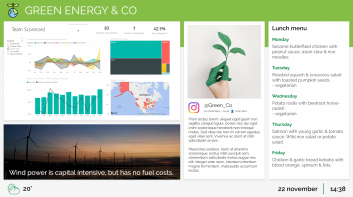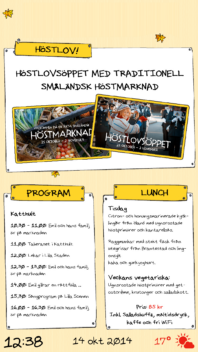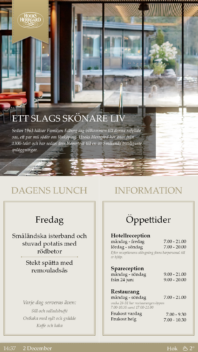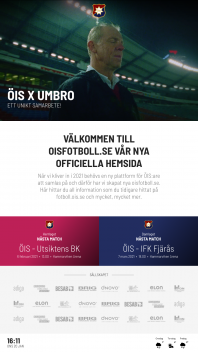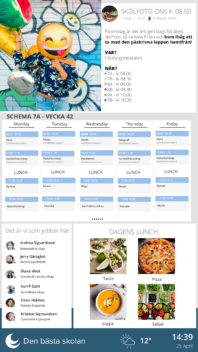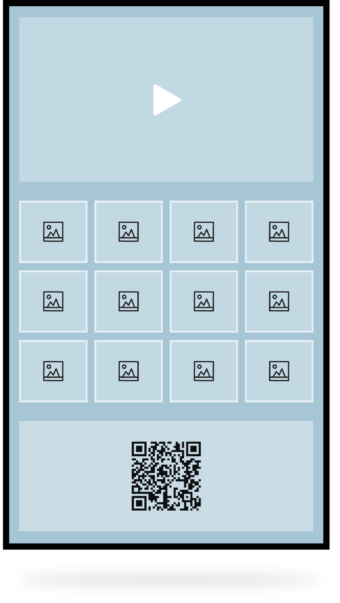 Media library
All your material collected in one single folder. You can save images, videos and documents.
HLS Stream
Stream HMLS (High-Level Material System) without converting to PLAYipp. Regardless of content, all you have to do is press play.
QR-code
Can it get more simple? Add a QR code into your content and let the view scan it to get even more info. Perfect for the long messages, updated workflows or just that amazing video that they should enjoy.
Images
Want to share images, movies or presentations to your screens. No worries – We handle pretty much every format out there and its even drag n' drop.
YouTube & YouTube LIVE
Going LIVE? feel free or embed the video to let it stream across your network.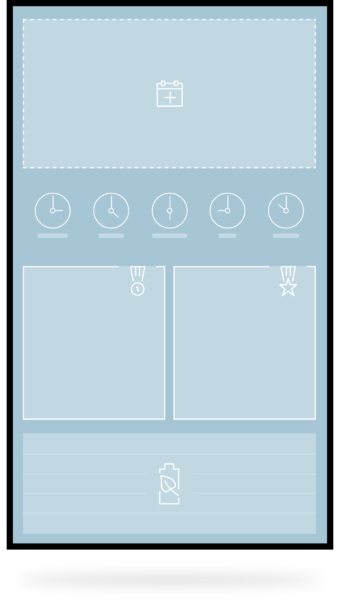 Schedule content
There is nothing worse than seeing information that is irrelevant, is there? Make sure it doesn't happen to you by scheduling content for your audience.
User rights
Each user can have different rights in PLAYipp. Supersmart if you got a team of content creators that need to handle certain parts of your screen or even screen network.
Energy saving
Make sure your screen is on when needed but maybe just as important to be off when not seen. Saving your money and the products life cycle time.
Screen network
Working with several screens it important to have it all structured and under control. We let you group screens making it even faster to publish to a network of screens.
Fallback & priority
Never ever shall your screen be black or empty! When you have nothing else to show make sure you have a fallback image, could be that summer party or an awesome cat.
When you have something really important, let it fill your screen and take stage as it deserves. That fall back and priority for you.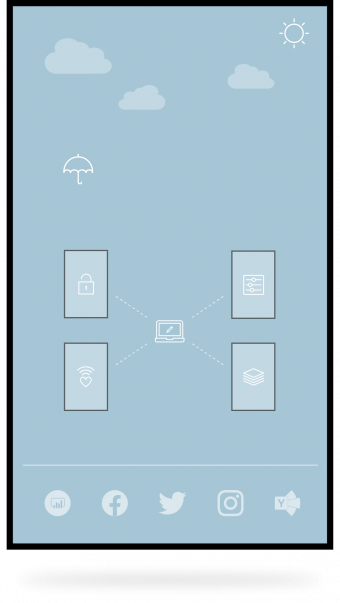 SAML
PLAYipp can be activated by using SAML (Security Assertion Markup Language) for even faster access.
Activation on screen
Activate your hardware right up on the screen, without extra hardware. Fast, faster, fastest!
Cloud based
PLAYipp is completely power by your browser and the internet. Never ever will you have to download anything.
Widgets
They are small but powerful, like little micro software, they contain predesigned content such as weather, time, social media etc. Great way to quickly add content.
Integrations
If you can integrate. Well, say hello to Facebook, Power-Bi, Yammer and many more. We love to build integrations!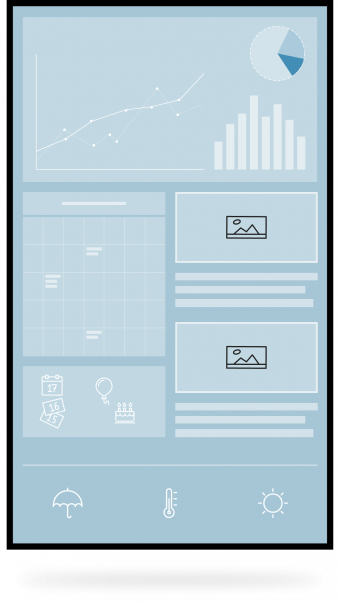 PLAYipp API
We have our own API (application programming interface) if you want to build your own integrations you are more than welcome, be our guest!
Heartbeat
Make sure your screen is online. If not you can at least be certain that it will always show its latest update. So never ever will it go dark.
Compatibility
PLAYipp supports most screens on the market today. If we for any reason don't support yours, you can always use PLAYport HD – a small media player making sure we look great even on that screen.
Digital signage with touch screen
If your digital information screen supports touch, you can navigate through a website by publishing a web link in PLAYipp. All you need is a PLAYport HD, a USB and a touch screen then you are ready to tap away!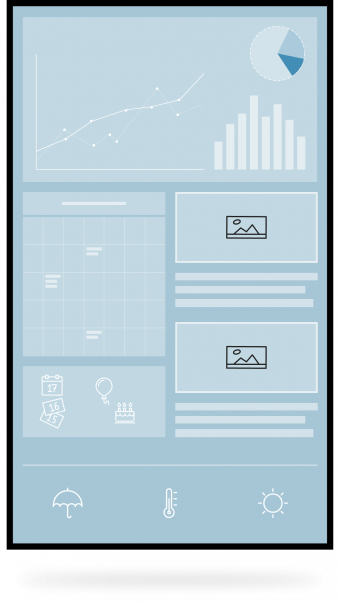 Ical
Share any calendar you want that supports iCal, it can be your teams or your soccer teams calendar. Both are great content we say.
Weather
Well, aren't we all interested in the weather? Broadcast it onto your screens.
RSS-feeds
Subscribe to any RSS-feed with our widget and automatically get updates from news outlets, papers, agencies and so on. The list is most likely endless.
Counter
Sometimes we want to count down, or up. Both work fine. It doesn´t even have to be the final countdown.
Clock & dates
It's obvious that we all have to relate to time. Broadcast it on a screen so all can see.
Inputs
This is a pretty nifty little widget. By answering an email you update the content, perfect for updating KPI's

PLAYipp Resturantmenu
Menus are the perfect way to display menus in the restaurant. Build for the day, week or recurring. Everything is up to you. Let your guests see what you serve.
PLAYipp Tenants
With the tenant list, you can easily create your own lists of your tenants and addresses. The lists are published on your screens in the stairwell where the guests live.
You gotta love integrations!
We know we do. So we keep making more. The benefit for you is that if you update in one place, your screen will automagically get the same information. Stop publish twice and go all integrations on us!
Facebook
Share your feeds.
Instagram
Shaowcase your best shots!
Power BI
Visualize dashboard or reports, lightning fast.
Trafiklab
Traffic information in real time. Never miss the bus again.
Twitter
Spread your tweets even further
Yammer
Yammer feeds right up on your screen for more to see and engage in.
How much?
Being our customer is meant to be easy and clear. PLAYipp will help you with analysis, prospecting and delivery. Everything is included and you have full access to our support team. We want you to be successful, from day 1.
Always free support.
No hidden fees.
No user limit.
Back-up is on us.
How much?
PLAYipp Digital Signage
Price is per license/screen. All included no surcharge, no hidden fees.
Resources
We know more about Digital Signage than most. We decided to collect it for you. Feel free to steal, get inspired or learn and go create your best solution for digital communication.
Need help? We are one click away!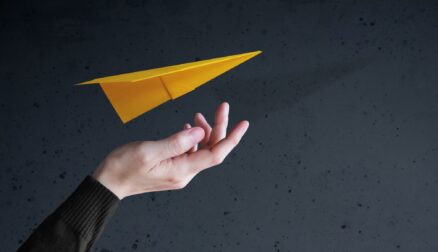 PLAYipp Digital Signage
How do you communicate with employees in 120 countries at the same time?
With the help of PLAYipp of course! A prerequisite for success is that information is communicated through one single channel.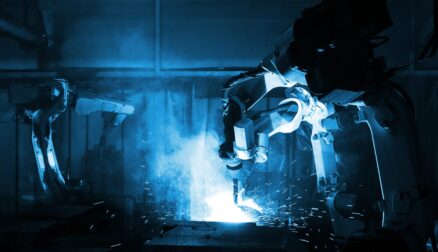 PLAYipp Digital Signage
CEVT needed a reliable solution for communication.
With 2000 employees in 13 buildings was PLAYipp the go to solution!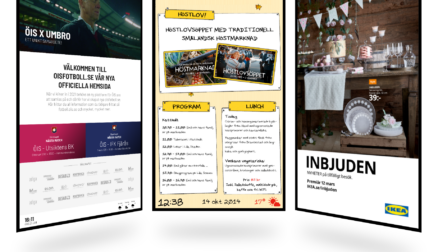 PLAYipp Digital Signage
5 strong reasons to consider using Digital Signage to boost your intranet
We have listed the top most interesting benefits of using signage to boost and be successful with your intranet. Regardless of which solution you are with.
The best support on the market?
We are always ready if you need us. You reach us quickly like lightning via chat, email and phone, in both Swedish, English and Norwegian.
Free support
Loads of knowledge
Reply within 4h